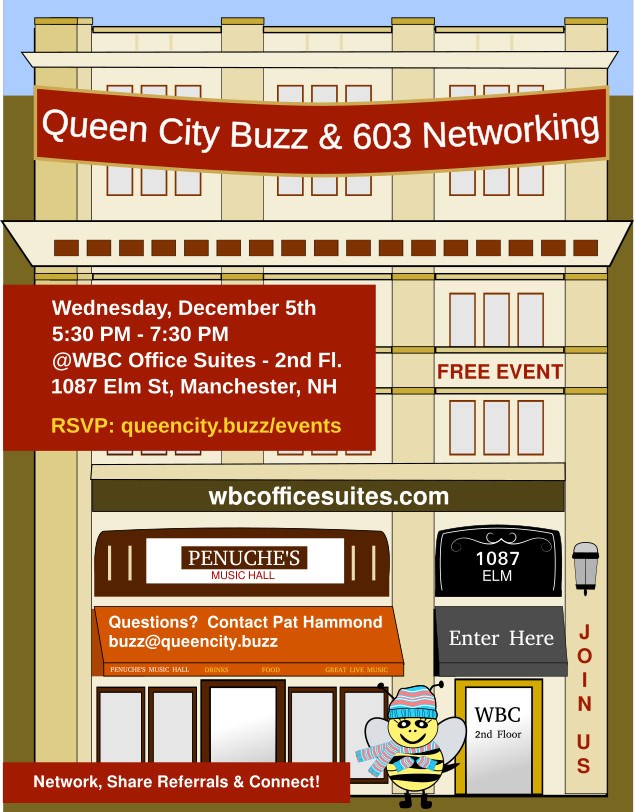 Come join the 603 Networking group for an evening of conversation and networking in Manchester!
For more about the venue, feel free to visit: www.WBCOfficeSuites.com
Some suggestions on how to use this great networking opportunity to the fullest:
-- Bring your business cards and small marketing materials/brochures if you have them
-- Have your calendar in hand to schedule follow-up one-on-ones
-- Invite your friends, clients, and any small business enterprise owners or business development representatives -- or, better, bring them along!
We are looking forward to meeting you and learning more about your business!
Who is behind this event? The 603 Networking Group on LinkedIn is. We have over 6,800 members to connect with. Our one requirement for the LinkedIn Group is that you live or work/have an office in New Hampshire. If you aren't yet a member, you can join through this link: https://www.linkedin.com/groups/2737743.
You can connect with the volunteer organizers of this event through the 603 Seacoast Networking group (https://www.linkedin.com/groups/7485874).
**You do not have to be a member of the LinkedIn group(s) to attended our events.